It's been quiet on the blog, but there's been a lot of activity in the past month. Here's the short summary of past week's activities and the upcoming events!
Blender Cloud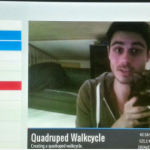 A new design has been implemented, a lot of software rewritten and improved, and we're ready to add a lot more now. Francesco Siddi and Pablo Vazquez spent full time on this all of June, and will be spending near full time on it next month.
We also hired Bart Veldhuizen to help us implementing the new administration and payment backend for the Cloud and the Estore – so we can give people much better support, invoices, overviews, accont info on the credits, and so on.
Andy Goralczyk's Creature Factory
Within a few days Blender Cloud gets its first new huge tutorial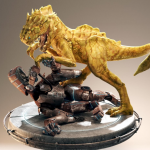 series – showing and explaining the making of an epic dinosaur scene.
Blender Institute Studio revamp
We've kicked out a lot of old crap, fixed electricity & the ancient ventilation system, remove wallpaper, clean/sand/painted all floors, upgraded the viewing room, and much more.
Fun side projects
Blender Cloud will get BBB and Sintel upgraded to work in 2.7x Blender! Sintel with Cycles, BBB in 'internal'. At least a minute per film, probably more.
We also asked Sebastian Koenig to upgrade his tutorial series on Motion Tracking.
Script writing commences
Esther and Mathieu worked on writing the Pilot synopsis. It's getting so exciting :) The work will get shared with our supporters starting August, when also concept art and storyboarding starts here. We have to devise a way to share the script in a way it's not spoiling the fun… might be on a special SPOILER area on Blender Cloud? I will think it over. For the coming weeks I prefer to give the writing process a quiet and focused period of solitude though.
Concept art and story team
Per 29 July we start working on the visuals more, this to also help the writing process. We've hired a special unit in this building with 20 meters of wall where pi
ctures can be attached on. In the story room will work:
Mathieu Auvray (director)
David Revoy (concept art)
Sarah Laufer (concept art, storyboarding, see image)
Pablo Vazquez (concept art, character concepts)
Matias Mendiola (story boarding, starts september)
Esther Wouda (writing)
The Amsterdam Gooseberry Pilot unit
Here's the current shortlist of people we will have on board (or whom we talk to). They will stream in during August/September/October period.
Mathieu Auvray (director)
Ton Roosendaal (producer)
Francesco Siddi (production coordination)
Pablo Vazquez (artist)
Hjalti Hjalmarsson (animator)
Manu Järvinen (modeler)
William Reynish (animator, still discussing it with him)
Andy Goralczyk (artist, still discussing it with him)
Lukas Toenne (developer)
Antonis Ryakiotakis (developer)
Campbell Barton (developer, here for 3 months)
Sergey Sharybin (developer, for some months here, rest works from home
More people will possibly be added, but this depends on how the script develops, and how well do financially. Some work will be done by people in one of the other units as well.
The blog & documentation team
Thanks to a very cool subsidy by the Netherlands Creative Industry Fund, we can recruit and hire a number of people who will help reporting and documenting the Gooseberry project – also to get ourselves much better connected to the outside real world. Their work is public and will be open/free for everyone on this blog. We'll start working on this mid july, wait a bit more news on this in 3 weeks.
The Blender Cloud: our production environment, and yes we share everything!
We aim at using Blender Cloud ourselves for versioning, storage and collaboration. Several people will work remotely on the Pilot anyway! Expect a lot of concept art and storyboards to be available right away – the day it gets made.
The script is still the most vulnerable part to share, but we'll established a nice (fenced?) area for it where people who really like to see script development can share and feedback. How this will look like we'll have to devise further in the course of July.
Thanks,
-Ton-