When Gooseberry was announced, the shortlist of possible studio partners quickly grew to over 30… it's really great to see so many companies using Blender and be ready for film. We would love to work with all of them, but that's just not practical for a feature film. The original idea to involve "8-10″ studios now already became 12.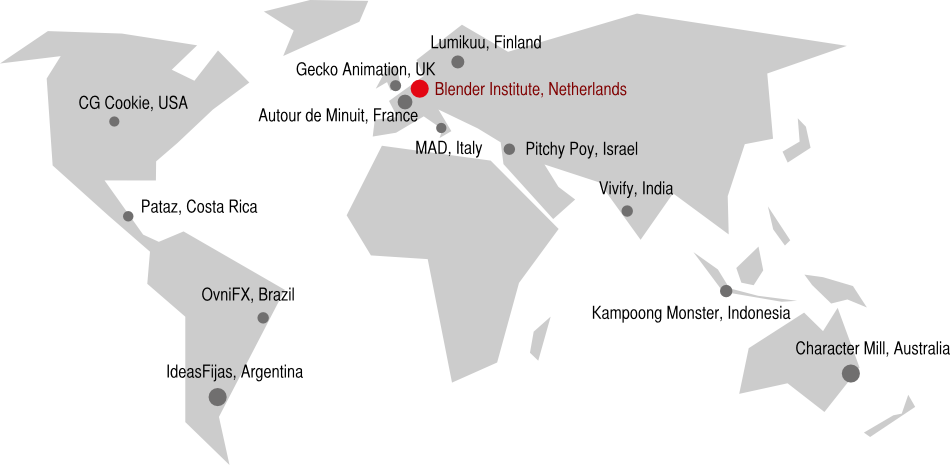 Here are the units we intend to combine for Gooseberry, in alphabetical order: 
Autour de Minuit, Paris, France
Art direction: David Revoy. Studio producer is Oscar winner Nicolas Schmerkin.
Character Mill, Sydney, Australia
Founder and director James Neale – "Kajimba" fame – will coordinate the Australian unit.
CG Cookie, Chicago, USA
Wes Burke and Jonathan Williamson are building an animation studio now. Art director will be Kent Trammell.
Gecko Animation, London, UK
Art direction: Jonathan Ball (Pokedstudio). Last year's Suzanne winner Chris Burton is on board as unit animation director.
IdeasFijas, San Luis, Argentina
This studio is currently working on a feature film "Kiribati".
Kampoong Monster, Bandung, Indonesia
Here concept artist Alfi Zakchyelle will work with animation director Johan Tri Handoyo (OHA Studios) and a large team of Indonesian Blender artists.
Lumikuu, Helsinki, Finland
Art direction: Manu Jarvinen. Iron Sky's Timo Vuorensola is available for unit-direction and advice.
MAD Entertainment, Naples, Italy
Paolo Acampora and Ivan Capiello surprised us last year with the NPR rendered "Skeleton Story".
Ovni VFX, Sao Paulo, Brazil
Teisson Fróes – founder of Ovni VFX – will coordinate a large team of the best Brazilian artists.
Pataz Studio, San Jose, Costa Rica
Well known Blender artists Daniel Salazar and Sarah Laufer established this studio.
Pitchi Poy, Tel Aviv, IsraelThis studio makes commercials for large clients and currently develops a feature film as well: "Baldy". Art director: Noam Meshulam.
Vivify, Mumbai, India
Here the feature film "Naughty 5″ is currently being completed. Art director: Pratik Solanki.
And of course:
Blender Institute, Amsterdam, the Netherlands
Here's the main production, by Ton Roosendaal (producer)  and Francesco Siddi (production coordinator). Director Mathieu Auvray will work here, with a team artists and developers. Character designer: Pablo Vazquez.
Portfolios of teams, links to websites, more names, and a lot more, will be following soon!
-Ton-